Adult Dresses Size Chart
Standard Size
S
M
L
XL
US Size
2
4
6
8
10
12
14
16
UK Size
6
8
10
12
14
16
18
20
Europe Size
32
34
36
38
40
42
44
46
Bust (inches)
32 ½
33 ½
34 ½
35 ½
36 ½
38
39 ½
41
Waist (inches)
25 ½
26 ½
27 ½
28 ½
29 ½
31
32 ½
34
Hips (inches)
35 ¾
36 ¾
37 ¾
38 ¾
39 ¾
41 ¼
42 ¾
44 ¼
Hollow to Floor
58
58
58
58
58
58
58
58
| | | | | | | |
| --- | --- | --- | --- | --- | --- | --- |
| Plus Size (US) | 16W | 18W | 20W | 22W | 24W | 26W |
| Plus Size (UK) | 20 | 22 | 24 | 26 | 28 | 30 |
| Plus Size (Europe) | 46 | 48 | 50 | 52 | 54 | 56 |
| Bust (inches) | 43 | 45 | 47 | 49 | 51 | 53 |
| Waist (inches) | 36 ¼ | 38 ½ | 40 ¾ | 43 | 45 ¼ | 47 ½ |
| Hips (inches) | 45 ½ | 47 ½ | 49 ½ | 51 ½ | 53 ½ | 55 ½ |
| Hollow to Floor | 58 | 58 | 58 | 58 | 58 | 58 |
Children Size Chart
| | | | | | | | | | |
| --- | --- | --- | --- | --- | --- | --- | --- | --- | --- |
| US Size No | 2 | 4 | 5 | 6 | 7 | 8 | 10 | 12 | 14 |
| Chest | 21 ½ | 22 ½ | 23 ½ | 24 ½ | 25 ½ | 26 ½ | 27 ½ | 29 | 30 ½ |
| Waist | 21 | 21 ½ | 22 | 22 ½ | 23 ½ | 24 ½ | 25 ½ | 27 | 28 ½ |
| Full Lenght* | 30 ¼ | 32 ¾ | 35 1/8 | 37 ½ | 41 ¼ | 43 ¼ | 45 ¼ | 47 7/8 | 49 ½ |
Adult Dresses Measure Guide
We at Adorona understand the importance of the perfect fit for you and hence constantly endeavour to provide you with the most appropriate and figure-flattering fits and sizes. The standard size chart is attached with each product page for your convenience. A copy is presented here below.
Here is a quick guide on how to get your measurements absolutely correct.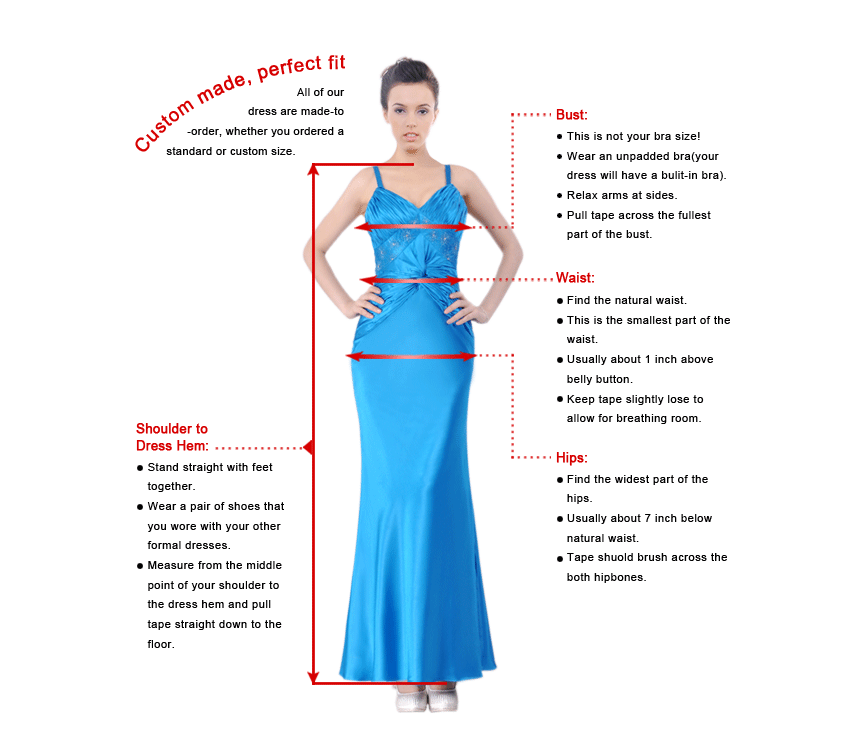 Step 1: Bust
- Encircle the tape measure around the fullest point of the bust -- over the shoulder blade area on your back.
- Keep your arms hanging loosely at your side and ensure that the tape measure stays perfectly horizontal around your body.
- Do not hold your breath during the measuring.

- Pull the tape measure comfortably taut and meet the ends around your body.
Step 2: Waist
- Relax your abdominal muscles and wrap the measuring tape around your natural waist.
- This would be approximately 2 inches above your belly-button and 2 inches below the rib-cage.
- Ensure the tape is neither too tight or loose around the waist.
Step 3: Hips
- Your hips will be the fullest part of your body just before it narrows to your legs.
- Wrap the tap measure around your hips, ensuring there is room for one finger behind the tap.
- The tape is level and lightly touching the body all the way around but not pulled tight.
Step 4 : Hollow to Floor
- Hollow to Floor measurement is simply from the hollow of your neck to the floor by your feet.
- Stand straight with feet together.
- Wear a pair of shoes that you wore with your other formal dresses
- Begin at the middle of shoulder to the dress hem
For the most alluring fit, consider the following points:
- Choosing a strapless dress, make sure its bust size is equal to or a bit less(0 - 0.5 inch) than your measurement. In this case, the dress will fit you tightly.
- For a strap dress, the bust size should be equal to or a bit (0 - 0.5 inch) more than your measurement.
- Waist size and hips size of a dress should be equal or a bit (0 - 1 inch) more than your measurement. In this way the dress will fit you well.
If you are still not completely sure about the pre-determined sizes, you can always give your customized measurements and requirements to us. Yes we do give that option too!!
Children Dresses Measure Guide